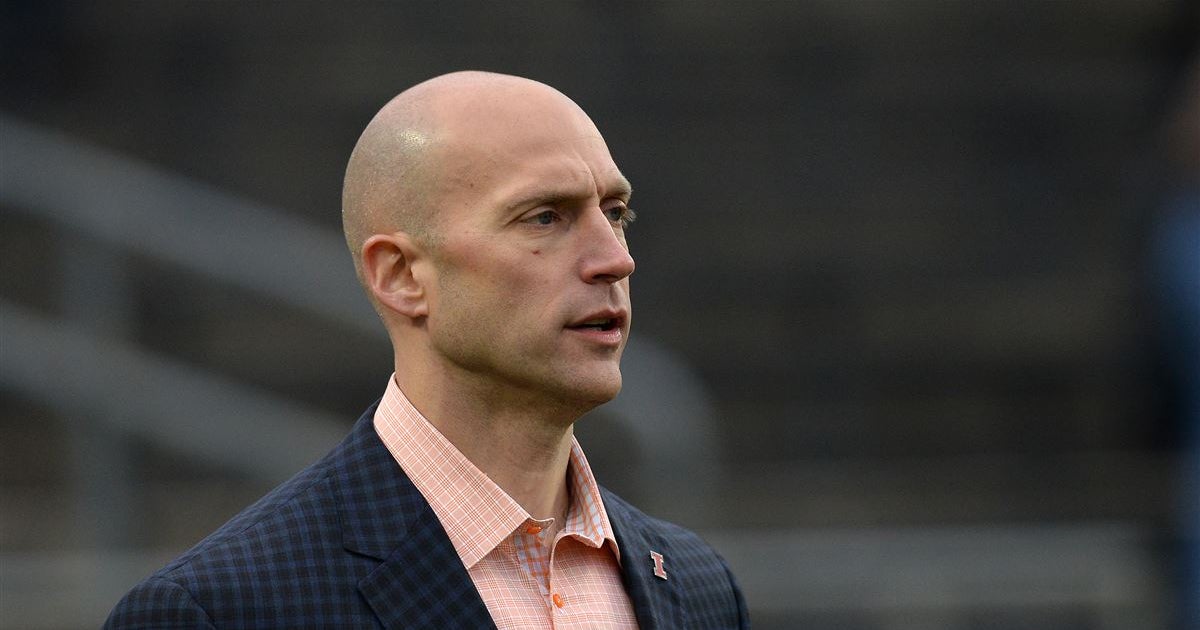 Why Whitman stands in opposition to playing on Illinois school sports activities
University of Illinois graduate Brad Evans considers himself a big supporter of Illini athletics director Josh Whitman. Evans, a national sports media figure who has more 134,000 Twitter followers, thinks Whitman, a former Illini football player, has done a "bang-up job" during his five years atop his alma mater's athletics department and is "a visionary for the university" in his attempt to elevate Illini athletics.
From men's basketball's renaissance, improved facilities across the athletics campus, support of progressive ideas in college sports (like name, image and likeness) or even grand, once-seemingly-impossible ideas — like trying to green-light a men's hockey program — Evans thinks Whitman has been "ahead of the curve."
But Evans does have a big disagreement with Whitman on one issue — and one Evans, a Fantasy Sports Writers Association Hall of Famer, is invested deeply: sports gambling.
"Whitman brings just an infectious energy to the community and to everything he does for Illinois," said Evans, who hosts a SiriusXM Radio show and cofounded a sports gambling content site, FTNBets.com. "We just have some certain disagreements, and this is one of those areas."
Whitman has been the public face of a group of 13 in-state Division-I athletics directors who have lobbied against gambling on in-state college sports inside Illinois' borders. Evans, and many critics of that prohibition stance, think Whitman and the other Division-I athletics directors' opposition costs the state millions in potential revenue due to what they consider overblown fears of bad actors' potential influence on college student-athletes.
Whitman and the in-state athletics directors' lobby initially was successful as the state legislature banned gambling on college games when it official legalized sports betting in June 2019 and the first wagers were placed in March 2020. But the state is on the verge of upending that ban.
The Illinois House of Representatives last month advanced a bill that will allow gambling on in-state college athletics, at least in a limited scope. With a vote of 96-11, the house passed the bill allowing wagers to be made on in-state college games but only at brick-and-mortar sports books (nine casinos took in out-of-state college sports wagers so far this year), and college wagers can only be made on the final score or outcome of a game with the bet filed before the start of the game.
If passed by the Illinois Senate and signed by the governor, the bill would start immediately and run on a two-year trial with the possibility to re-implement the prohibition or go in the opposite direction and further open up gambling on in-state college sports, potentially to the very lucrative business of mobile wagering.
Rep. Mike Zalewski, a Democrat from Riverside, told the Chicago Sun-Times the bill was a "great compromise" that takes into account Whitman's concerns about player safety and health and that, "If student-athletes are being harassed, we'll revisit it; If we're not making enough revenue, we can revisit it."
Despite the overwhelming and bipartisan support for the bill, Whitman said he opposes the changes by the legislature and remains steadfast in his opposition against wagering on in-state college athlietcs.
"Candidly I struggle to see the why [for the change in the law]," Whitman said last month at his annual media roundtable. "I don't know why they're trying to change this particular part of this law, which is only two years old to start with. I think we as administrators in college athletics, we're always looking out for what we believe are the best interests of the student-athletes. I think that this situation is clearly not in the best interests of student-athletes or any Illinois college student-athlete."
Whitman's opposition is not because he despises gambling. He embraces betting on professional sports and said if he were a general manager or team president of a professional team, he'd "be all about gambling" because of the increased engagement — and, thus, revenue — it can bring that sport and those franchises. But, philosophically, Whitman thinks college athletics is a different ball game.
"I do feel that this is one of those areas that there is a strong line to be drawn between professional and collegiate athletics," Whitman said. "I have no problem with betting on professional sports, for a number of different reasons. But in the college space, to me, it is entirely different. I think these are in large part kids, right? They're 18-, 19-, 20-years-old. They're living on a college campus, they're surrounded by people every day who may be betting on them. How strange is that to be sitting in a classroom next to somebody who may be placing a bet on how you're going to play that night? Or to live in your apartment and know that the guy living next door is watching how you walk out of your room? Are you on crutches, are you sick? To know whether they put money on you the night you go out to play. …I think it's a little awkward that you have to be 21 years or older to gamble on sports, yet we're contemplating opening up an opportunity to gamble on people who aren't old enough to gamble themselves."
Mostly, Whitman is intent on protecting his student-athletes, and he thinks gambling opens the door for more potential harassment that he already sees on social media, some of it Whitman called "abusive" and "vile." Though Whitman did not provide any specific examples of gambling's impacting his student-athletes, he simply doesn't want another potential layer of outward pressure — or potential safety concerns — to be pressed upon Illini student-athletes.
"It's an inordinate amount of pressure to go out and hit that free throw with the game on the line or to kick that field goal to win the game as time expires," Whitman said. "Then you add on top of that that people are gambling thousands, tens of thousands, hundreds of thousands of dollars on whether that kick goes through the uprights or that shot goes through the basket. I don't see how that's fair to them, and I just don't think that's right. If you're a professional and you're making lots of money and you're an adult who understands that environment, to me, that's entirely different. And you're protected. If you're a pro athlete, you kind of exist in a bubble, even if you're not in COVID times. You kind of move around with security and you don't have people who have direct access to you. Anybody can walk into a dorm here. You don't like to talk like this but you see a lot of terrible things happening in society right now, and all it takes is one person to place a big bet and lost it and maybe they're deep in debt and they lost a house or lost a family member, whatever, it's not very hard for them to walk into an apartment building or a dorm and do something that we're all going to regret later on. You don't like to play out these scenarios, but these are the things that I think about.
"The narrative that's directed to them when they miss a shot, when they drop a pass, when they miss a kick, you wouldn't believe it. So anything we do that's going to just create more of that, to me, doesn't make any sense. That's why we continue to oppose it. I tip my hat to my colleagues around the state. There are 13 of us representing Division-I institutions and all 13 feel similarly on this particular issue."
Evans, a Champaign Centennial graduate who recently moved back to the area from Denver, appreciates Whitman's commitment to protecting student-athletes. But he just thinks that Whitman's stance ignores too many realities, especially that if people don't gamble at in-state sports books, they'll simply find another place to do it.
Some just go across the border, especially to Indiana, to make wagers on games. More often, gamblers can make wagers through online sports books, costing the state potential revenue, or through an old-school bookie. Allowing more opportunities to legally gamble on college games — with many wagers already having betting limits — creates a paper trail, Evans said, which allows better oversight of potential bad actors.
"You'll have a face, you'll have a name, you'll have a transaction that can be monitored," Evans said. "So if there is a nefarious reason behind that wager, they can track it more simply than ever before when it was done in the shadows and by dark means. …Just because you're going to open what he feels is Pandora's box by having more people invest in wagering within this state's borders isn't going to prevent people from doing nefarious acts. It's always been there. We are just now casting a spotlight on it more so than ever before.
"What he's trying to do is look out for athletes' best interests, and the best interests for any student-athlete or really for a lot of us who want to maintain some sanity in this social media driven world is the block button or the mute button. Encourage your students to use that liberally to try and weed out some of the people that are coming after that, whether it's a sports bettor or a simple crazy common fan."
Mostly, Evans thinks opposing gambling on in-state college games limits revenue potential for the state and engagement levels for the athletics departments. Someone who bets on the game is more likely to watch the game, potentially in its entirety, Evans said. That drives up ratings, which could increase media-rights deals, which would increase Illinois' already massive revenue take from the Big Ten's massive broadcasting deals, which resulted in $54.3 million for each Big Ten program for the 2020 fiscal year, according to USA Today.
"It's a healthy ecosystem that is created from this, and Josh will benefit in the end," Evans said. "I think he knows this. I think he will not acknowledge that publicly because he is looking after the student-athletes more than anything else, and I think it's a very valiant, reasonable viewpoint. But in the end, it's going to line the university's pockets with more green anyway.
"Sports betting, and this is something Josh and I both agree on, it is there to raise excitement, it is there to increase the fun factor. He discusses that with professional sports, it's no different than college. As long as people are doing it in their best interest and they view this as a form of entertainment and they don't take it so seriously, it's no different than fantasy football."
Whitman usually seems at the forefront of reforms in college athletics, including name, image and likeness. But he is standing against the seemingly overflowing tide with gambling — 21 states now allow some form of legalized sports gambling, according to ESPN, with 27 other states already with legislative activity moving toward legalization. Evans thinks Whitman and his fellow in-state athletics directors will soon be drowned out because money talks — and there is a lot of money to be made with betting on in-state college sports.
The state earns a 15% cut of adjusted gross receipts from legal sports wagers, which is total wagered minus total payout. According to a Commission on Government Forecasting and Accountability report, the state could annually make between $58 to $102 million in revenue per year on taxing sports wagers. According to Legal Sports Report, Illinois through the first four months of 2021 brought in about $27 million in tax revenue on sports wagers.
Last March, no one was able to bet in Illinois on two of the state's program's meeting in the NCAA Tournament with No. 8 seed Loyola-Chicago upsetting No. 1 seed Illinois. Now, those wagers will be allowed. But Illini fans in Champaign would need to drive more than an hour to make an in-person, legal bet inside the state with the Par-A-Dice Hotel Casino in East Peoria (almost 90 miles away) the closest in-state, land-based sports betting location.
While allowing in-state college gambling at a few handfuls of brick-and-mortar will raise some more revenue, the state will be missing out on significant revenue by not allowing online wagers on in-state games through legalized apps.
During the first six months of this year, the Illinois Gaming Board reports a handle of $13,629,772.98 of in-person wagering on college sports compared to $278,337,417.32 in online wagering on college sports. Evans doesn't see how the state's politicians will go longer than two more years of turning down potentially millions in easy revenue for a state with more debt, according to Forbes, than the other 49 states in the union.
"It's inevitable. It has to get there because the state is starving for cash," Evans said. "This state is thirsty for dollars. To quench that thirst, this will be one drop of water on the tongue by allowing to do it. They'll lift the restrictions in two years, and the floodgates will really open."
Whitman knows his opinion isn't the majority right now. But the Illini athletics director will continue to stand against the rising tide of gambling on college athletics because he just thinks it's the right thing to do for his student-athletes.
"Maybe that's not a popular opinion," Whitman said. "I just feel that's my job, to look out for what's in the best interest of our students. Usually what's in the best interest of our students and what's in the best interest of our engagement are the same. This is one of those situations where those two things are different. If we have to pick a side, we're going to pick the side of our students. I know it's happening online. I know it's happening in other states. You can be in Indiana or you are in Lafayette where I grew up, you can place a bet on an Illinois team. All we can do is control what we can control. All I know is that if we legalize it in our state, are more people going to be on Illinois teams than they are right now? Absolutely, 100 percent. I think that opens up the door for more risk and challenge for our student-athletes that exists currently.
"I get it. People want to have fun and they think that gambling on sports is great. I respect that. I just don't think it belongs in college athletics."